The NCRCRD sponsors or facilitates monthly webinars to help connect rural development researchers and Extension professionals with each other and with stakeholder groups.
Please note: The NCRCRD-sponsored webinars are always free and all webinar times listed are Eastern Time.
January Webinar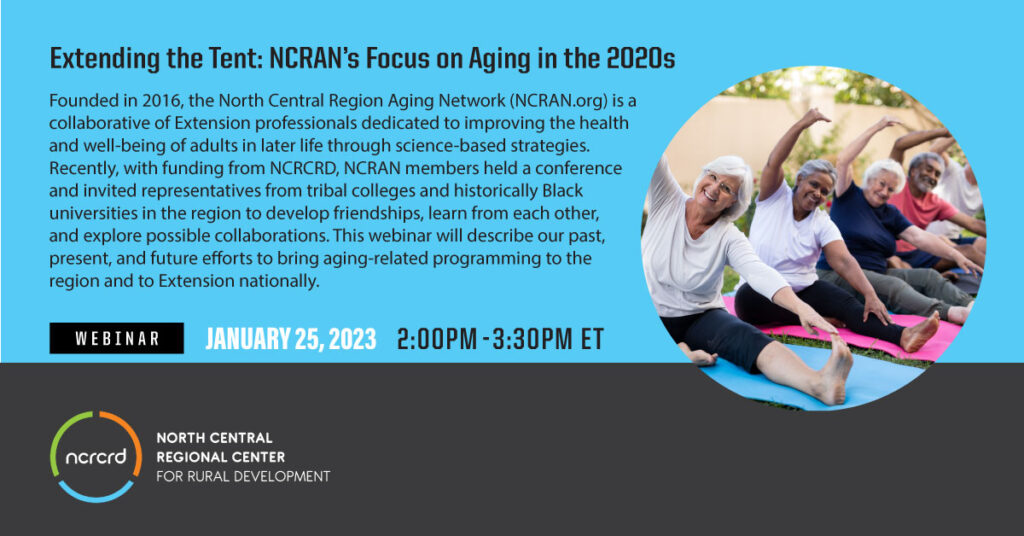 Extending the Tent: NCRAN's Focus on Aging in the 2020s
January 25, 2023  |  2:00 pm – 3:30 pm (ET)
Founded in 2016, the North Central Region Aging Network (NCRAN.org) is a collaborative of Extension professionals dedicated to improving the health and well-being of adults in later life through science-based strategies.  Recently, with funding from NCRCRD, NCRAN members held a conference and invited representatives from tribal colleges and historically Black universities in the region to develop friendships, learn from each other, and explore possible collaborations.  This webinar will describe our past, present, and future efforts to bring aging-related programming to the region and to Extension nationally.
Presenters:
James S. Bates, Associate Professor and Field Specialist of Family Wellness, Ohio State University Extension
Chelsey Byers,  Family Life Educator, University of Illinois Extension
Kristin Miller, Assistant Extension Professor, University of Missouri Extension
Previous Webinars
An Introduction to NCR-Stat – the Free Household Dataset (12/7/22)
Presenters: Maria I. Marshall, Director, North Central Regional Center for Rural Development (NCRCRD); Professor and James and Lois Ackerman Endowed Chair in Agricultural Economics, Purdue University; and Director, Purdue Institute for Family Business, and Zuzana Bednarikova, Research and Extension Specialist, NCRCRD
Additional Items: Presentation Slides
Supporting Rural Grocery Stores Across the North Central Region (11/7/22)
Presenters: Lisa Bates, Interim Assistant Director and Field Specialist, Iowa State University Extension and Outreach Community and Economic Development; Greg Schweser, Director of Sustainable Agriculture and Food Systems, UMN Extension Regional Sustainable Development Partnerships; and Rial Carver, Program Leader, Rural Grocery Initiative, K-State Research and Extension
Additional Items: Iowa State Slides |  UMN-RSDP Slides  |  K-State-RGI Slides
Health Care Access Among Self-Employed Workers in Nonmetropolitan Counties (10/12/22)
Presenters: Elizabeth Dobis, Research Agricultural Economist, Rural Economy Branch, Resource and Rural Economics Division, USDA Economic Research Service and Jessica E. Todd, Agricultural Economist, Food Assistance Branch, Food Economics Division, USDA Economic Research Service
Additional Items: Presenter's Slides
Federal Programs for Rural Entrepreneurs in the North Central Region (9/22/22)
Presenters: Alan Haut, North Dakota District Director, U.S. Small Business Administration; Randy Monhemius, Business Program Specialist, USDA- Rural Development, Ohio; Eric Ness, Wisconsin District Director, U.S. Small Business Administration; and Joan Scheel, Business Programs Director, USDA – Rural Development, Nebraska
Additional Items:  SBA Slides  |  USDA-RD Slides
How We Work Together: Supporting Local/Regional Food Systems through Collaboration (8/30/22)
Presenter: Lindsey Scalera, Community Food Systems Collaboration Specialist, Center for Regional Food Systems, Michigan State University
Additional items:  Presenter's Slides  |  Webinar Mentimeter Responses
Moving Rural Communities FORWARD: Future Opportunities for Rural Workforce and Rural Development through Extension (5/24/22)
Presenters: Tanya Hall, Community Development Regional Extension Educator, Purdue University; Sheila Martin, Strategic Advisor for Economic and Community Engagement, Association of Public and Land-grant Universities; and Michael D. Wilcox, Jr., Assistant Director & Program Leader for Community Development-Purdue Extension, Associate Director-North Central Regional Center for Rural Development (NCRCRD), Community & Regional Economics Specialist-Purdue University Dept. of Agricultural Economics, Senior Associate-Purdue Center for Regional Development
Remaining Land-Grant Fierce While Accepting the Land-Grab Truth of Our Foundation (4/20/22)
Presenters: Stephen M. Gavazzi, Professor, Human Development & Family Science, Land-Grant Fierce Professor at The Ohio State University; and Michael D. Wilcox, Jr., Assistant Director & Program Leader for Community Development-Purdue Extension, Associate Director-North Central Regional Center for Rural Development (NCRCRD), Community & Regional Economics Specialist-Purdue University Dept. of Agricultural Economics, Senior Associate-Purdue Center for Regional Development
How Can Communities Address the Great Resignations? & Work Ready Life Skills Curriculum Preps Applicants for Job Openings Around the Country (3/10/22)
Presenters: Bo Beaulieu, Purdue University Department of Agricultural Economics; Monica Nagele, Health and Human Science Educator, Montgomery County, IN; and Mitch Wagoner, 4-H Youth Development, Knox County, IN
Retaining Rural Businesses through Conversions to Employee Cooperatives (2/22/22)
Presenters: Michael Darger, University of Minnesota Extension; Courtney Berner, University of Wisconsin Center for Cooperatives; and Kevin Edberg, Cooperative Development Services
The Impacts of Flooding on Business Activity and Employment: A Spatial Perspective on Small Business (1/20/22)
Presenters: Mark Skidmore, Professor, Michigan State University
All of US Research Program: The Future of Health Starts With YOU (12/9/21)
Presenters: Mae Sandberg, All of Us
Latino Farmers in the Midwest: Practices and Challenges (11/10/21)
Presenters: Corinne Valdivia, University of Missouri; Stephen Jeanetta, University of Minnesota; and Ruben Martinez, Michigan State University
Insights for Rural Healthcare Resilience: A Quantitative Survey Analysis (10/28/21)
Presenters: Sarah A. Low, Associate Professor of Regional Economics and Heinkel Chair in Agriculture, University of Missouri
Using Q Methodology to Measure Rural Entrepreneurial Perceptions & An Overview of Homegrown (9/16/21)
Presenters: Jennifer Johnson Jorgensen, University of Nebraska-Lincoln; and Tessa Conroy, University of Wisconsin-Madison
How to Get the Most Out of the Community Development Extension Library (6/15/21)
Presenters: NCRCRD, Purdue Extension, University of Illinois Extension
How Communities Can Utilize Financial Data in Planning Their Futures: Strategies and Innovations from Rural Iowa (5/26/21)
Presenters: Biswa Das, Iowa State University and Kimberly Zarecor, Iowa State University
Programs, Partnerships, and Pathways: Opportunities for the North Central Region (4/27/21)
Presenters: Maria Marshall, Purdue University and Michael Wilcox, Purdue University
Equitable Access to Cooperative Extension Services for Indigenous Communities: Implications for the North Central Region (3/3/21)
Presenters: Katie Hartmann, Colorado State University and Erin Riley, USDA National Institute of Food and Agriculture