NCRCRD's health initiatives focus on enhancing health and wellness in rural communities across the North Central Region. The Center increases the quality of life for individuals and communities by raising awareness, engaging community members to improve public health, and building community partnerships.
Community mental and physical health is crucial for the collective wellbeing of community members. Many factors influence health, including health behavior, clinical care, the physical environment, and social and economic conditions. Access to health services, education, and employment; healthy lifestyle; workforce development; and transportation resources are lagging in rural communities and have important implications on rural residents' overall wellbeing and economic opportunities.
---
NC1100: A Systems Perspective to Community Resilience: Rural Healthcare at the Intersection of Households and Businesses
Typically, rural businesses generate lower revenues and employ fewer employees than their urban counterparts, in part because lower populations and lower income populations generate less demand for what businesses offer yet are dependent upon these offerings. Current assessments indicate that improvements in educational attainment and health status are lagging in rural areas, which threatens rural businesses as well as the vitality and resilience of rural communities. Over the last four decades, globalization and technological change have altered the nature of work in rural communities. In many cases, global outsourcing has replaced traditional trades in mining, manufacturing, and agriculture. While these trends have affected the entire economy similarly, the slowness or inability of rural areas to recover has created an increasing economic divide between the labor and economic opportunities in urban versus rural communities. This leaves in place a workforce that may be discouraged, displaced from previous jobs, and with no previous experience relative to the jobs available in these rural communities. As well, in some rural areas, out-migration has led to a labor shortage of working-age adults.
This project examines innovative and evidence-based approaches for enhancing workforce development and organizational wellbeing for small rural business owners, with an aim of promoting community prosperity and wellbeing. Specifically, objectives of the NC1100 project are listed below:
Identify the strategies used by small rural businesses to maintain and develop a skilled and healthy labor force.
Assess the effect of workforce wellness programs on firm outcomes such as employee retention and profitability.
Assess the impact of health disparities on the wellbeing of households and business owning households in rural communities.
Exploring the role of rural small businesses in community-based efforts to address substance use disorder.
For those interested in joining the project or learning more, please contact Maria Marshall at mimarsha@purdue.edu.
Emergency Preparedness for Rural Families
March 10, 2023
Principal Investigator: Jenna Nees, Purdue University Extension
Co-Principal Investigator:  Ann Kline, University of Nebraska
Proposal Abstract:
It is estimated that approximately one out of every nine Indiana farms annually experiences a farm work-related injury requiring medical attention. However, these nonfatal farm injuries may not be documented and easily tracked. According to The Mid-West Farm Report (Jahnke, 2019), the decentralized nature and diversity of work practices within the agricultural industry contributes to it being one of the most hazardous occupations. Additionally, it makes tracking the number of incidents difficult.
While not all emergencies result in bodily injury or death, they also may cost rural families in other ways. In order to help prepare for and reduce the effects of an emergency, the 'Emergency Preparedness for Rural Families' program will teach participants to evaluate how well their farm is prepared for unexpected situations.
The Emergency Preparedness for Rural Families proposal will fund a unique partnership between the Purdue University's and University of Nebraska's Women in Agriculture Programs to provide education to rural families to address the high rate of work-related injuries and deaths within the agriculture industry. In many farm families, farm safety is an important topic, but it sometimes gets overlooked because it does not directly impact the growing crops/livestock or the sale of goods. Farm wives often let their thoughts drift to the importance of emergency preparedness when they hear of farm safety issues other farm families have faced. This program will cater to women by encouraging them to ask questions, connect with participants and speakers, and share their experiences. This hands-on program will focus on increasing the knowledge, skills, and abilities of attendees. Attendees of all genders and demographics will be encouraged to participate in an effort to improve the safety preparedness of rural families.
Award: $39,000
---
Rural Family Caregiving: Building Selfcare and Resiliency of Rural Women Family Caregivers for Older Adults
March 10, 2023
Principal Investigator: Nasreen Lalani, Purdue University
Co-Principal Investigator: Bhagyashree Katare, Purdue University
Proposal Abstract:
One in five older adults (65 years or older) live in rural America. This number is expected to double by 2030 (CDC, 2022). With a high proportion of older adults with chronic illnesses and disabilities in the rural areas, there is a greater need for caregiving among rural residents. Caregiving in rural areas is uniquely challenging due to several disparities, such as lack of access and resources, longer travel time to health care facilities, lack of transportation, discrepancies in rural service delivery systems, and the unique needs of the rural primary caregivers. Nearly 65% of unpaid family caregivers are women, 80% of these women care for someone aged 50 years or older (Gausman & Ana, 2020). According to National Alliance for Caregiving report (2021), most rural primary caregivers have no paid help, have lower education and household income, and therefore suffer from social and economic constraints. Often, caregiving roles are mandated on rural women without any options. They also tend to provide more hours of weekly care weekly (26.3 hours on average) as compared to their male counterparts. Their responsibilities include fulfilling medical/nursing needs and supporting daily activities of their care recipients. Formally and informally employed rural women are expected to do domestic and or care work after their working hours. This dual burden of care and employed work on women reduces their ability and time to of self-care and wellbeing. Research has shown that an estimated 36–43% of rural women caregivers prioritize needs of their care recipient over their own self-care needs while putting their own health at risk (Sarrasanti et al., 2020). Several studies also report higher levels of depression, anxiety, and other mental health challenges among women who care for an older adult relative or a friend (reference). Inability to recognize and address self-care needs of rural female caregivers can lead to poor health outcomes and wellbeing in rural women and may reduce their ability to continue functioning effectively in their caregiving and employed roles.
Most prior studies report caregiving as a burden whereas other studies describe caregiving as a rewarding and transcending experience among caregivers. However, there is a need to further unpack the underlying causes and correlates of these variations in caregiving experiences from a gender perspective particularly in a rural context. Our study aims to examine the lived experiences of women rural caregivers caring for their older adults, identify their self-care needs, and determine the ways to promote the resilience and subjective wellbeing of rural women caregivers. Having a deeper understanding of caregiving needs and behaviors would assist in establishing meaningful caregiver support programs as well as informing policy in the rural communities.
Awarded: $40,000
---
Resilient Couples, Resilient Communities: Enhancing family and community well-being through sustainable, evidence-based programming for couples in the North Central Region
March 15, 2022
Principal Investigator: Allen Barton, Assistant Professor and Extension Specialist, University of Illinois Urbana-Champaign
Co-Principal Investigator: Anthony Santiago, Extension Specialist, Iowa State University
Proposal Abstract:
Strong and resilient couple relationships are integral to building strong and resilient communities. Unfortunately, maintaining such a relationship is a trying endeavor for many couples, including those living in rural areas. If not addressed, chronic relationship distress negatively affects the health and well-being of individuals, their families, and the rural communities in which they reside. To address this concern, the current proposal will disseminate a leading, evidence-based relationship education program to rural couples in the North Central Region (NCR). Building upon the success of this project in Illinois, the aims of the current proposal are to: (a) disseminate the program to rural couples throughout the NCR, (b) evaluate the effects of program participation, and (c) train Extension professionals in other NCR states in program implementation. The outcomes of this project are expected to advance the mission of NCRCRD and improve the well-being of rural NCR families and their communities.
Award: $39,957
---
Translational Research in Rural Economic Development and Health Psychology: Sleep and cardiovascular health in a meatpacking community during COVID-19
March 15, 2022
Principal Investigator: Dr. Katherine Duggan, North Dakota State University
Co- Principal Investigator: Dr. Thomas Krumel, North Dakota State University
Project Abstract:
The COVID-19 pandemic and the corresponding economic downturn have worsened labor market constraints and rigidities that existed before the pandemic. These gaps are especially pronounced among under-represented minority workers, who faced high employment-related risks at the onset of the pandemic and also have high barriers to labor force reentry. Through surveys and ambulatory health biomarker data collection in a rural Minnesota community (home to a large meatpacking plant that experienced a significant COVID-19 outbreak), we will bridge the social and biophysical sciences and foster rural development by documenting labor market barriers (as a social determinant of health) in a meatpacking community by exploring associated sleep and cardiovascular health disparities. Our focus is on meatpacking because of the well-documented difficult working conditions at the onset of the pandemic. The industry also relies disproportionately on immigrants and refugee workers, making it an ideal case study for examining these impacts in under-represented individuals.
Award: $40,000
---
Combating a Crisis: Exploring Community Responses to Opioids
November 5, 2019
Principal Investigator: John Leatherman, Kansas State University
Co-Principal Investigators: Bonnie Bressers, Kansas State University; Jami Dellifield, Ohio State University
Proposal Abstract:
In 2017, more than 70,000 drug overdose deaths occurred in the United States. Opioids are the main driver of drug overdose deaths, leading the federal government to declare a nationwide Public Health Emergency. Most federal assistance is targeted to states, while at the community level – where consequences of the epidemic are acute – local leaders, healthcare providers, and law enforcement are left to formulate a response. A tenet of this project is that the epidemic is too great a problem for any single local entity to handle. Rather, it requires collaboration of a coalition of local entities to reduce the incidence of opioid abuse. There is evidence such coalitions are forming and initiating remedial local efforts, but little is known about the extent to which this is occurring, the scope of coalition activities, or the progress of their efforts.
This project proposes a pilot study comparing Ohio, where the opioid problem is acute, to Kansas, where opioids are less problematic. We propose surveying mental health professionals to learn about community-based initiatives, the range of activities undertaken, and the extent of success or failure. We hypothesize we will find hopeful indications that local coalitions are forming and making progress in response to the opioid crisis. This information would be compelling toward securing additional resources to scale the effort to the national level with the goal of offering communities a viable strategy to combat opioids and best practices to effectively respond to the ravages of the epidemic.
Award: $20,330.00
---
Local Policymaker Perceptions of the Opioid Crisis and the Efficacy of Extension Communications
November 5, 2019
Principal Investigator: Daniel Bergan, Michigan State University
Co-Principal Investigator: Hillary Shulman, Ohio State University
Proposal Abstract:
How accurate are local policymaker perceptions of the opiate epidemic in their communities? What types of evidence are most useful to local policymakers in making judgments about the severity of the opiate epidemic and the effectiveness of local policies meant to address opiate abuse? We plan to measure local policymaker perceptions and attitudes about the opiate epidemic in their communities, comparing policymaker responses to objective data about the local impacts of the opiate epidemic. We also plan to explore the impact of evidence about the opioid crisis on policymaker perceptions of the prevalence of opioid-related problems in their community, perceived importance of the issue, and support for potential policy solutions. To answer these questions, we will use a unique field experimental design and an online survey of local policymakers in Michigan and Ohio. We will randomly assign policymakers to receive policy-relevant evidence, including locally tailored data on how the opiate epidemic affects their community, as well as reviews of the academic literature on opiate policy as well as narrative evidence about the success or failures of a variety of local opiate-related policies in jurisdictions across the Midwest. We will follow-up with an online survey of policymaker perceptions and attitudes about substance abuse policy.
Award: $20,500.00
---
Reducing Rural Young Adult Health Disparities through an Adaptive Mobile Relationship Intervention
November 5, 2019
Principal Investigator: James Kale Monk, University of Missouri
Co-Principal Investigators: Amber Vennum, Kansas State University; Elaine Johannes, Kansas State University
Proposal Abstract:
Due to the impact of intimate relationship quality and stability on mental and physical health, child outcomes, and the economy, the government instituted policy initiatives promoting healthy marriage through relationship education (RE). Many scholars recommend implementing RE with young adults given that early relationship dynamics while dating strongly predict later marital and health outcomes as individuals begin to focus on long-term committed unions during this key developmental period. Current RE initiatives are impaired by both limited resources to implement face-to-face classes, especially in rural areas, and the need for more adaptable, personalized content dissemination. The rapid development of mobile technologies provides opportunities for gathering information and delivering health interventions in real-time in rural areas. Indeed, 65% of rural Americans own smartphones and many young adults use their smartphones to seek health information and relationship advice online. Unfortunately, the information available online is often anecdotal and maladaptive. Thus, along with the assistance of an interdisciplinary team of scholars, clinicians, educators, and software engineers (i.e., "Relevate"), we seek to respond to these limitations by providing a relationship-specific, individually tailored platform (i.e., "MyRelevate") to share evidence-based curricula and content with the public. In order to equip Extension professionals with the tools needed to help rural young adults make healthy relationship and well-being decisions, we are requesting $24,690 in financial support to finalize the development of the platform, create additional content, train Extension professionals in how to use MyRelevate, and support future grant submissions.
Award: $24,690.00
---
STEPping UP: Social-Emotional Learning for Rural Middle School Youth
November 15, 2018
Principal Investigator: Amber Letcher, South Dakota State University
Co-Principal Investigators: Kristine Ramsay-Seaner, South Dakota State University and Meagan Scott, North Dakota State University
Project Abstract:
Youth suicide rates continue to rise throughout the United States, particularly in rural areas such as South Dakota and North Dakota. South Dakota has the 14th highest suicide rate in the country, with two counties ranking in the top 1% for suicide rates nationally (South Dakota Department of Health, 2017). North Dakota presents similar statistics with an upward trend in high school students who have considered, planned, or attempted suicide over the past decade (North Dakota Department of Human Services, 2016). Research indicates that the majority of diagnosable mental illnesses start before age 14 (Kessler et al., 2005) suggesting an increased urgency in providing prevention programs that help youth, specifically, learn the skills needed to combat these suicidal thoughts.
Successful programming related to suicide awareness often targets social and emotional learning (SEL) which involves enhancing skills in emotion regulation, perspective-taking, decision-making, empathy, and self-awareness (CASEL, 2013). The current study aims to enhance SEL among middle school youth in rural North and South Dakota. Extension educators in both states will be trained in the Step Up curriculum, an evidence-based program targeting the development of SEL. Extension educators will implement the program with youth from their state (n = 100 per state) in a treatment versus waitlist control design. Results from treatment versus control youth will be compared to identify any significant differences in SEL and mood among the youth.
Award: $21,765
Taking Action to Address Substance Use Disorder in Communities: Clinical, Community and Workforce Perspectives (8/24/23)
Presenters: Nicole Adams, School of Nursing, Purdue University; Erin Belgarde, Turtle Mountain Community Innovation, Research, and Development Department; Sheila Trottier, Turtle Mountain Community College; and  Elisa Worland, Purdue Extension – Wayne County
Extending the Tent: NCRAN's Focus on Aging in the 2020s (1/25/23)
Presenters: James S. Bates, Associate Professor and Field Specialist of Family Wellness, Ohio State University Extension; Chelsey Byers,  Family Life Educator, University of Illinois Extension; and Kristin Miller, Assistant Extension Professor, University of Missouri Extension
Health Care Access Among Self-Employed Workers in Nonmetropolitan Counties (10/12/22)
Presenters: Elizabeth Dobis, Research Agricultural Economist, Rural Economy Branch, Resource and Rural Economics Division, USDA Economic Research Service; and Jessica E. Todd, Agricultural Economist, Food Assistance Branch, Food Economics Division, USDA Economic Research Service
All of US Research Program: The Future of Health Starts With YOU (12/9/21)
Presenters: Mae Sandberg (All of Us)
Insights for Rural Healthcare Resilience: A Quantitative Survey Analysis (10/28/21)
Presenters: Sarah A. Low, Associate Professor of Regional Economics and Heinkel Chair in Agriculture (University of Missouri)
Supporting the Mental Health of Farm Families in the North Central Region (05/06/2020)
Presented by: Carrie Henning-Smith (University of Minnesota) and Florence Becot (National Farm Medicine Center)
Integrating and Sustaining Financial Capability Services in Rural Healthcare Delivery (12/12/2019)
Presented by: J. Michael Collins (University of Wisconsin), Elizabeth Kiss (Kansas State University) and Suzanne Bartholomae (Iowa State University)
Will Local Foods and Technical Change Alter the Urban Form? (10/24/19)
Presented by: Scott Loveridge, John Mann & Spencer Thompson (Michigan State University)
Understanding Stress & Depression in Farmers & Ranchers (3/12/19)
Presented by: Andrea Bjornestad (South Dakota State University) and Courtney Cuthbertson (Michigan State University)
Redefining Rural Food Deserts by Transportation Networks (3/13/18)
Presented by: Gregory Newmark and Hyung Jin Kim (Kansas State University)
---
Rural Health & Safety Education: Combating Opioids
The Rural Health and Safety Education webinar series "Combating Opioids" is hosted by Purdue University Extension and the NCRCRD as part of a *USDA/NIFA* and SAMHSA grant.
The objective of this webinar series is to:
Share information and best practices to prevent opioid misuse and abuse in rural counties
Increase professional capacity to engage in health leadership in rural counties
Increase access to new ideas and technologies related to opioid misuse and abuse in rural counties
Increase public health knowledge and engage in the health system
Increase health literacy of opioid misuse or abuse in rural counties
Capacity Building for Improved Behavioral Health in Rural America: PROSPERing in a COVID Context (09/24/2020)
Presented by: Richard Spoth, Greg Pliler, and Cassandra Knutson (Iowa State University)
The Childhood Trauma – Addiction – Incarceration Pipeline: A National Public Health Crisis Compounded in Rural Areas (09/10/20)
Presented by: David Young (Montana State University)
Emergency Services: Impacts of Responses to the Opioid Crisis (02/04/20)
Presented by: Captain Tobias Frost (Lafayette Fire Department)
The Impact of Naloxone Access Laws on Opioid Overdose Deaths in the U.S. (9/25/19)
Presented by: Elham Erfanian (West Virginia University)
Articles: https://rrs.scholasticahq.com/article/7932-the-impact-of-naloxone-access-laws-on-opioid-overdose-deaths-in-the-u-s
The Relationship Between Opioid Prescriptions and Child Removals (5/8/19)
Presented by: Troy Quast (University of South Florida)
Florida study   California study    U.S. study
The Impact of the Opioid Crisis on Hospitals: A Nurse's Perspective from the Bedside (3/28/19)
Presented by: Nicole Adams, PhD., RN, CEN, Purdue University
Mental Health Promotion: An Opportunity for Opioid Overdose Prevention (2/21/19)
Presented by: Laura Schwab-Reese, Purdue University

Dreamland: America's Opiate Epidemic and How We Got Here (12/7/18)
Presented by: Sam Quinones, Journalist and Author
Demand-side Factors Influencing Endemic Drug Use in America (9/25/18)
Presented by: Michael Betz, The Ohio State University
Adverse Childhood Experiences: A Driver of the Opioid Epidemic (6/19/18)
Presented by: Michael Brumage (West Virginia University)
Resources noted:
What's Your ACE Score? Take the Quiz
State of Indiana has a stigma reduction campaign called Know the O Facts
More than Opioids: The Social Determinants of Drug Overdose and Related Despair in Rural and Small City America
Presented by: Shannon M Monnat (Syracuse University)
Recognition and Stigma in Prescription Drug Abuse and Alcohol Abuse (1/17/18)
Presented by: Robert Shupp and Scott Loveridge (Michigan State University)
Resources noted in webinar chat:
https://www.mentalhealthfirstaid.org/
How the Opioid Crisis Impacts Individuals and Rural Communities (12/5/17)
Presented by: Michelle Sybesma, Parkdale Center for Professionals
It is the NCRCRD's mission to build rural communities through cutting-edge research and Extension programs and innovative partnerships. To achieve this mission, we seek to engage research and Extension at all of the land-grant institutions across the North Central Region.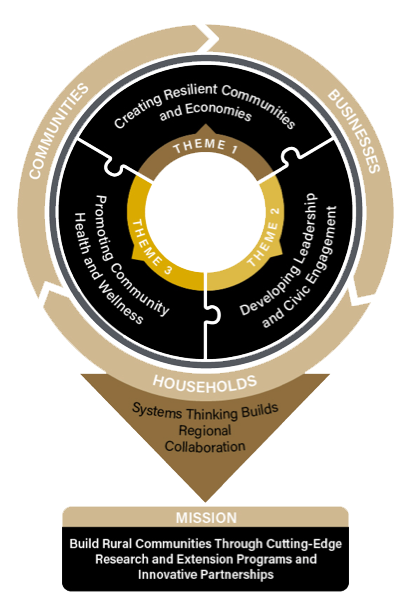 Funding will be provided for multistate working groups focused on the NCRCRD's three rural development thematic areas of creating resilient communities and economies, developing leadership and civic engagement, and promoting community health and wellness that integrates research and Extension. Multistate working groups may focus on one theme and one system. However, work across themes and systems is highly encouraged. The Center will provide administrative support and may include Center staff as part of the working groups as appropriate.
The Center will provide up to $50,000 over three years. Funding can be used for team development and meetings, preliminary data collection, or other activities that facilitate multi-state regional and sustainable collaboration that lead to relevant regional outputs. These projects will result in scholarly work such as research publications, Extension curricula, and proposals for external funding.
Working groups must be representative of the NCR:
A minimum of six North Central states must be represented
Include faculty and/or staff from Land Grant Colleges or Universities
The team must have an adequate balance between research and outreach
Working group proposals should:
Detail how rural inequities (e.g., social, poverty risk, income, education, health) will be addressed
Describe how diversity and inclusion will be addressed within the team and in terms of impact on stakeholders
Describe how the working group will interact with the Center
Describe expected outputs and impacts
Describe leveraging plan to attract additional resources
Provide details for at least one working group webinar focused on Center themes (one per year based on working group duration)
Proposal sections:
Project summary (250 words max)
Project narrative (5 pages max, 1.5 spacing)
Budget with budget justification
Timetable of milestones and outputs
Team member roles
Biographic sketches of team members
For more information or to submit a proposal please contact:
Maria I. Marshall, Ph.D.
Professor, Jim and Lois Ackerman Endowed Chair in Agricultural Economics
Director, North Central Regional Center for Rural Development (ncrcrd.org)
Director, Purdue Institute for Family Business [PIFB]
Editor, Choices Magazine (AAEA)
Department of Agricultural Economics
403 W. State St., West Lafayette, IN 47909
Email: mimarsha@purdue.edu
Phone: (765) 494-4268