The NCRCRD is committed to building a more resilient North Central Region by improving the adaptive capacity of households, businesses, and communities through impactful research and outreach.
Resilience requires many and complex interconnecting decisions made by individuals, households, businesses, and communities. The resilience of these interconnected systems relies on their ability to bounce back better after major shocks to their various capitals such as human, built, financial, social, political, natural, and cultural.
Facilitating Career Pathways for Rural Students: Cooperative Extension as a Community Connector (Working Project)
This project will build the capacity for rural communities to address workforce challenges by building and testing a Rural Workforce Engagement Model to be implemented by Cooperative Extension. Cooperative Extension leaders will facilitate their communities to design rural career pathways that will meet the workforce needs in their specific communities and the needs of rural low-income and non-traditional learners. The targeted population will benefit from improved outcomes, such as program persistence and completion, job placement, increased wages, and social mobility.
Five sets of partners will participate in this planning and pilot project: Association of Public & Land-Grant Universities (APLU), Regional Rural Development Centers (with the North Central Regional Center for Rural Development at the lead); the Cooperative Extension leaders who will comprise the Workforce Engagement Model Design Team; and the team of Extension and community stakeholders from two pilot regions who will pilot test the model.
An Extension Guidebook to Help Communities Plan for Drought Using Scenario Based Exercises
November 5, 2019
Principal Investigator: Deborah Bathke, University of Nebraska-Lincoln
Co-Principal Investigators: Peter Tomlinson, Kansas State University; Hans Schmitz, Purdue University; Tonya Bernadt, University of Nebraska-Lincoln
Proposal Abstract:
Droughts, with their prolonged absence of rain, can creep up on communities causing disastrous consequences to the economy, environment, and human health. Scenario-based exercises (e.g., workshops, tabletop exercises, and games) focused on drought offer an innovative way to bring people together to discuss drought planning and policy issues. Participants can collaborate with and learn from other community members, decision-makers, planners, and scientists. Rural communities, which often have limited fiscal resources and a lack of local government capacity may find these exercises especially beneficial as they create a framework for helping the community to draw up their unique resources, such as their self-reliant nature, strong sense of community, tightly connected family networks, and knowledge of and ties to natural resources, to build resilience to drought and increase sustainability. This project translates existing research on how drought scenario exercises have been used to help communities better prepare for drought into an interactive Extension Guide designed to help Extension specialists and others working in community development educate communities about drought and the importance of planning; illustrate the use of scenario exercises as an innovative way to engage community members in the planning process; provide guidance for selecting appropriate scenario exercises to help start the planning process; and explore case studies based on the experiences of other communities and organizations.
Award: $24,671.00
---
Homegrown: Entrepreneurship in your Community—An Entrepreneurial Ecosystem Curriculum
November 5, 2019
Principal Investigator: Tessa Conroy, University of Wisconsin-Madison
Co-Principal Investigator: Sarah A. Low, University of Missouri
Proposal Abstract:
Research and outreach on entrepreneurship in regional economic development indicates weak entrepreneurial networks in much of rural America. This problem is especially acute in regions that have traditionally relied on business attraction and retention as a rural economic development strategy, as have Wisconsin and Missouri. The proposed program aims to create a supportive network in rural areas, so that when entrepreneurs are considering starting a business they get supportive signals from key community leaders. The principal output from this grant will be the development and piloting of an Extension curriculum, "Homegrown: Entrepreneurship in your Community." The proposed Extension program taps the new and rapidly growing body of research on entrepreneurial ecosystems and uses it to create a customizable curriculum that aims to grow entrepreneurial networks in rural areas, and consequently, foster rural economic development. A secondary output from this grant will be the development of a USDA NIFA AFRI integrated grant proposal to the "Innovation for Rural Entrepreneurs and Communities" program area, summer 2020. Our AFRI project will propose measuring entrepreneurial networks in rural communities and their impact on business ownership and performance. The policy question is whether there is a role for smaller communities to facilitate institutions that foster networking and social capital that enhance local entrepreneurship?
Award: $16,570.00
---
Retaining Rural Businesses by Transitioning to Cooperative Ownership
November 5, 2019
Principal Investigator: Michael Darger, University of Minnesota
Co-Principal Investigators: Courtney Berner, University of Wisconsin-Madison; Kevin Edberg
Proposal Abstract:
The UofM Extension and the UofWI Center for Cooperatives, along with Cooperative Development Services in St. Paul will design, deliver and evaluate a "road show" about converting businesses to employee ownership with audiences in rural areas. Converting businesses to employee ownership through worker-owned cooperatives is a new approach to retaining businesses when owners retire. At least it's new in terms of acceptance and application in the economic development field. It has gained traction on the East and West coasts, however adoption has been slower in the North Central region. For businesses with <100 employees, converting to a worker owned cooperative is potentially a pathway for business succession. However, outside of co-op circles few are aware of this method nor have considered it as a viable option for retaining businesses. In Minnesota and Wisconsin there are ~27,000 retiring business owners potentially interested in this research. Additionally, this project builds on new federal legislation and rules, including the availability of USDA Business and Industry Loan Guarantees for cooperatives, and the Main Street Employee Ownership Act.
This project will create insights and greater understanding of needs/barriers relative to supporting rural business-to-cooperative transitions in the North Central region. Leveraging the knowledge and experience developed by project partners and practitioners in other regions, the project team will create, pilot test, and evaluate methods. The goals include 1. creating basic awareness about converting businesses to employee ownership, 2. gaining its acceptance as a viable option and 3. spurring adoption of cooperative conversions as a succession strategy.
Award: $25,000
---
Support Our Stores (SOS): Initiating Multi-State Response to Rural Grocery Store Crisis
November 5, 2019
Principal Investigator: Kathy Draeger, University of Minnesota
Co-Principal Investigators: Jody Bruns, North Dakota State University; Ren Olive, University of Minnesota
Proposal Abstract:
Rural grocery stores, those located in communities with a population of 2,500 or less, are closing at unprecedented rates, the impact of which is being felt throughout rural communities nationwide. These closures are often permanent and new owners and stores are not replacing those that are shuttered.
The impact of these closures results in limited access to a full range of healthy grocery items, decreased Main Street businesses, reduced community assets and vitality. This project seeks to identify, recruit, and orient Extension research and outreach to supporting the remaining grocery stores, piloting this in MN and ND. The goal of this project, Support Our Stores (SOS): Initiating Multi-State Response to Rural Grocery Store Crisis, is to develop a grant proposal to increase land-grant university capacity to help stem the epidemic of rural grocery store closings in Minnesota and North Dakota, and to provide a framework for other regions to address a similar problem.
This planning project will harness multi-state insight, experience, and expertise through the collaboration of the University of Minnesota (UMN) Extension and the North Dakota State University (NDSU) Extension services. The "SOS" planning team will: 1) conduct a Situation Assessment and identify available resources, 2) use project planning meetings with ND and MN to define goals and objectives, and, 3) complete a full grant proposal and budget.
Award: $25,000
---
Food Access and Independent Grocers: Strengthening Food Security in Underserved Communities
November 15, 2018
Principal Investigator: Gary Taylor, Iowa State University
Co-Principal Investigators: Lisa Bates and Jon Wolseth, Iowa State University; David Procter, Kansas State University; and Greg Schweser, University of Minnesota
Project Abstract:
Compile existing land grant university resources that support independently-owned groceries as sites of food security, social centers, and economic opportunity in the rural Heartland by bringing together three partners (Iowa State University, Kansas State University, and University of Minnesota) to review our existing resources and efforts, identify gaps where development of additional resources are needed, and begin the discussion on creating a joint curriculum for working with independently-owned groceries that could be shared throughout the North Central region.
Award: $22,012
---
The Impact of Volunteers on Sustainable Rural Community Development
November 15, 2018
Principal Investigator: SoJung Lee, Iowa State University
Co-Principal Investigators: Linda Niehm, Iowa State University; Jichul Jang, Kansas State University; and MiRan Kim, Michigan State University
Project Abstract:
A rural festival can be an important contributor to a community's resource base and a means of sustainable community development. Effective festival operation and management are also essential to a successful event. Many rural festivals rely heavily on volunteers to remain viable. However, there is limited understanding regarding the role of volunteers in rural community events and their impact on civic life and local leadership development. The primary purpose of this research is to identify the role and impact of festival volunteers on sustainable rural community development using a community capitals perspective. For this study, a research model will be developed and tested to 1) identify how volunteers influence community sustainability through a set of input variables, including: motivation, attachment, ownership, loyalty, leadership, engagement, and community support, 2) examine if volunteers' demographics and festivals 'profiles moderate the impact of volunteers on a rural community, and 3) create a foundational assessment tool to be used for a festival volunteer training toolkit. Twelve rural festivals in Iowa, Michigan, and Kansas will be selected for the proposed study. Surveys will be distributed to festival volunteers between fall 2018 and summer 2019. Findings will portray the current opportunities and challenges of managing volunteers in rural festivals and provide a feasible and practicable perspective for developing a volunteer training program and related toolkit. Results will offer preliminary data for a larger external grant (e.g., USDA Rural Community Development Initiative Grants) to develop a sustainable volunteer training program to for rural festival organizers and community stakeholders.
Award: $25,000
---
Integrating and Sustaining Financial Capability Services in Rural Healthcare Delivery
November 15, 2018
Principal Investigator: J. Michael Collins, University of Wisconsin
Co-Principal Investigators: D. Elizabeth Kiss, Kansas State University; Suzanne Bartholomae, Iowa State University; and Carrie Johnson; North Dakota State University
Proposal Abstract:
Extension educators in several states in the North Central region have been delving into the links between health and household finances. Although financial capability support services are available in many rural communities, financial education, coaching, and related programs are not well integrated into health systems. At the same time, a growing body of research shows that financial strain undermines people's ability to follow-through on medical treatments, ultimately harming their health. This project bridges the domains of household finance and health through 1) a needs assessment documenting rural healthcare providers' perspectives on screening patients for financial difficulties and integrating financial capability supports into health services and 2) exploring the potential of sustaining these services through insurance reimbursement. Healthcare's fee-for-service payment model has restricted the integration of social services, such as financial education, into the delivery system; however, financial hardship recently gained a medical diagnosis code (ICD-10-Z59.9), creating interest in reimbursement for financial education. Challenges to service integration loom especially large in rural areas, where the average patient-to-primary care physician ratio of only 40 physicians per 100,000 people, compared to 53 physicians per 100,000 in urban areas. Thus, rural healthcare providers have even less capacity to conduct financial screenings or make referrals. This project will draw on healthcare professionals' perspectives to develop recommendations for tools, resources, partnership strategies, and programs that support financial capability service integration into rural health systems.
Award: $24,897
It is the NCRCRD's mission to build rural communities through cutting-edge research and Extension programs and innovative partnerships. To achieve this mission, we seek to engage research and Extension at all of the land-grant institutions across the North Central Region.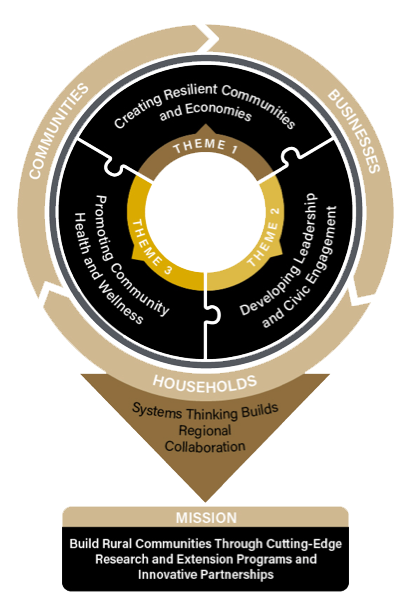 Funding will be provided for multistate working groups focused on the NCRCRD's three rural development thematic areas of creating resilient communities and economies, developing leadership and civic engagement, and promoting community health and wellness that integrates research and Extension. Multistate working groups may focus on one theme and one system. However, work across themes and systems is highly encouraged. The Center will provide administrative support and may include Center staff as part of the working groups as appropriate.
The Center will provide up to $50,000 over three years. Funding can be used for team development and meetings, preliminary data collection, or other activities that facilitate multi-state regional and sustainable collaboration that lead to relevant regional outputs. These projects will result in scholarly work such as research publications, Extension curricula, and proposals for external funding.
Working groups must be representative of the NCR:
A minimum of six North Central states must be represented
Include faculty and/or staff from Land Grant Colleges or Universities
The team must have an adequate balance between research and outreach
Working group proposals should:
Detail how rural inequities (e.g., social, poverty risk, income, education, health) will be addressed
Describe how diversity and inclusion will be addressed within the team and in terms of impact on stakeholders
Describe how the working group will interact with the Center
Describe expected outputs and impacts
Describe leveraging plan to attract additional resources
Provide details for at least one working group webinar focused on Center themes (one per year based on working group duration)
Proposal sections:
Project summary (250 words max)
Project narrative (5 pages max, 1.5 spacing)
Budget with budget justification
Timetable of milestones and outputs
Team member roles
Biographic sketches of team members
For more information or to submit a proposal please contact:
Maria I. Marshall, Ph.D.
Professor, Jim and Lois Ackerman Endowed Chair in Agricultural Economics
Director, North Central Regional Center for Rural Development (ncrcrd.org)
Director, Purdue Institute for Family Business [PIFB]
Editor, Choices Magazine (AAEA)
Department of Agricultural Economics
403 W. State St., West Lafayette, IN 47909
Email: mimarsha@purdue.edu
Phone: (765) 494-4268