A team of researchers from South Dakota and North Dakota parlayed a $21,000 grant from the North Central Regional Center for Rural Development (NCRCRD) into $3 million in federal grant funding and a coalition designed to help rural middle-school students in North and South Dakota.
"Just to think that this all started with that $21,000 investment," Amber Letcher, project lead on the original NCRCRD grant, said. "That's a real return on an investment."
As an associate professor at South Dakota State University and the 4-H Youth Development Specialist for South Dakota Cooperative Extension, Letcher was working with a colleague in the counseling program at SDSU, Kristine Ramsay-Seaner, to find funding to help stem a spike in suicides among middle-school students and lessen their involvement in risky behavior like drinking and sexual activity. Another colleague told them about the NCRCRD. Together with a partner from North Dakota State University, Meagan Scott Hoffman, they applied for one of the small grants, got what was needed, and used that as seed money to develop a multi-state partnership.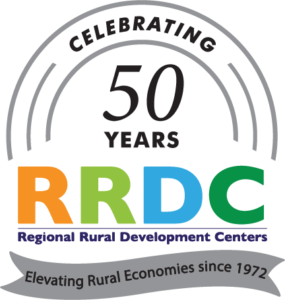 The NCRCRD is one of four rural regional centers celebrating its 50th anniversary this year. The centers, located strategically across the country to assist rural America with economic development, were established by the Rural Development Act in 1972. Each center serves a U.S. region and works in concert with the land-grant universities and other entities to provide economic and community development data, decision tools, education, and guidance.
The NCRCRD, located at Purdue University, serves Illinois, Indiana, Iowa, Kansas, Michigan, Minnesota, Missouri, Nebraska, North Dakota, Ohio, South Dakota, and Wisconsin. This center focuses on three major areas: creating resilient communities, developing leadership and civic engagement, and promoting community health and wellness.
Core funding for the center comes from the United States Department of Agriculture's National Institute of Food and Agriculture. Those funds are then used to build rural communities through cutting-edge research and Cooperative Extension programs and creating innovative partnerships.
They also provide small grants to help support innovative programs. Enter Letcher and her colleagues.
"This funding came at a critical time for us," she said recently. "I'm not sure we could have implemented any social-emotional learning programs without the center."
The challenge, Letcher said, was to find an evidence-based program to help build rural youth's social and emotional skills. In short, they wanted to enhance youth's skills in emotional regulation, perspective taking, decision-making, empathy, and self-awareness. And because the suicide rates in South and North Dakota were similar, they partnered with each other to address the issue.
They had a program in mind but needed funding. With money secured, they implemented the Botvin Life Skills program. Based on the success of the programming, the two states used those impacts to apply for USDA funding. Since the original NCRCRD funding, the program received NIFA funding through the Children, Youth, and Families at Risk program and now have created their own curriculum called LaunchSkills.
Additionally, they decided to create the umbrella organization, Strengthening the Heartland, to provide services that improve the health and wellness of rural communities across the Dakotas.
"We already had a track record and just continued to determine how we could work together," she added.
One challenge was developing programming for what they call the rural frontier. For example, young people living in remote, rural areas may not be able to attend a 12-week program. That might pose a hardship on them and those administering the program. But if the program can be done in a single session or virtually, the potential for success is greater.
"We are committed to helping our young people, and the Center helped us not just help them one time, but to develop a consortium that will continue to address their needs."
Read more about the growing North and South Dakota program
---