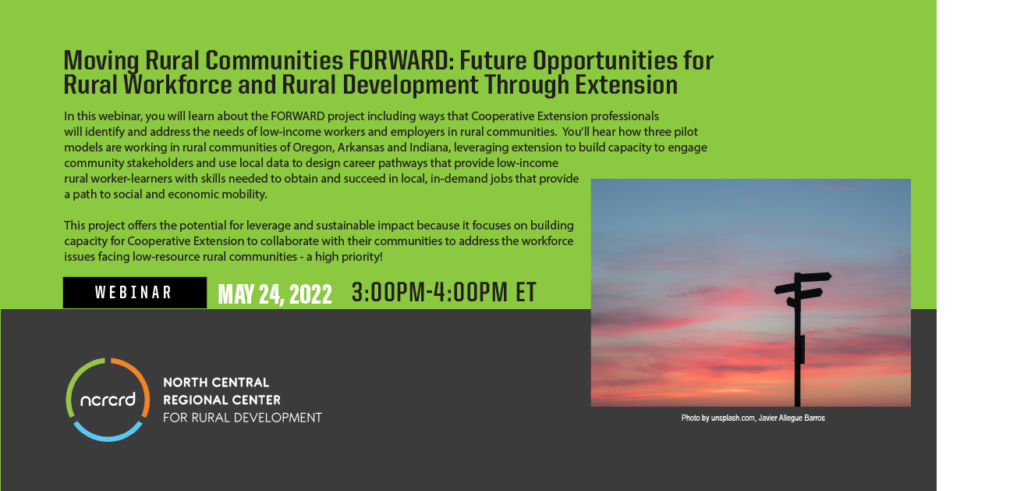 Date: May 24, 3 PM-4:00 PM (ET)
Description:
In this webinar you will learn about the FORWARD project, including ways that Cooperative Extension professionals will identify and address the needs of low-income workers and employers in rural communities. You'll hear how three pilot models are working in the rural communities of Oregon, Arkansas, and Indiana, leveraging extension to build capacity to engage community stakeholders and use local data to design career pathways that provide low-income rural worker-learners with skills needed to obtain and succeed in local, in-demand jobs that provide a path to social and economic mobility.
This project offers the potential for leverage and sustainable impact because it focuses on building capacity for Cooperative Extension to collaborate with their communities to address the workforce issues facing lo-resource rural communities – a high priority!
Presenters:
Tanya Hall, Community Development Regional Extension Educator, Purdue University
Sheila Martin, Strategic Advisor for Economic and Community Engagement, Association of Public and Land-grant Universities
Michael D. Wilcox, Jr., Assistant Director & Program Leader for Community Development-Purdue Extension, Associate Director-North Central Regional Center for Rural Development (NCRCRD), Community & Regional Economics Specialist-Purdue University Dept. of Agricultural Economics, Senior Associate-Purdue Center for Regional Development
---